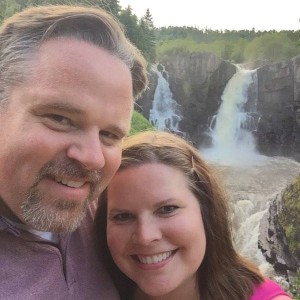 Michelle met David online 2-1/2 years ago. They fell in love and are now about to move into their new home together.
They have what I call the "ultimate" love story. Not only did they seem to be wildly compatible from the beginning, but they have actually become much happier, more "grown-up" people as a RESULT of the struggles they encountered in their relationship.
Their relationship is the pinnacle of what I consider to be a "success."
It's not because they have outrageous chemistry for each other – although don't get me wrong, they seem VERY into each other. And it's not because they never disagree or have difficulties. In fact, you'll hear about an issue that came up a year into their relationship that would likely break up most couples, but instead made their relationship better.
I wanted you to hear that a relationship that looks "perfect" on the outside isn't perfect at all. I wanted you to hear for yourself that there ARE good men out there, but finding those good men means changing something within YOURSELF.
You'll see what I mean…
Listen in on this 40-minute conversation I have with this amazing couple and find out:
What was it about her profile that got David's attention and why? And what turned him OFF from other women's online profiles? (Heed this advice if you want more positive attention from your online profile.)
What happened when a year into their relationship David was faced with the question, "Where is this relationship headed?" and instead of feeling happy anticipation, he felt trepidation. Hear what the mental obstacle was to him moving forward with the relationship and how he overcame it. (This is a must-know for any woman who is starting a committed relationship with a man.)
Learn why I gave David big accolades about 25 minutes into the interview because he SO GOT something that's so essential to the happiness of ANY relationship. (And why most people skip this part and end up being miserable in love as a result.)

And if you're ready to finally understand men better and build a lasting, loving relationship as Michelle and David have, then let's connect for a no-obligation exploratory call. I'd love to know more about you and to help you with falling madly in love with Mr. Right.
Podcast: Play in new window | Download
Subscribe: Apple Podcasts | Google Podcasts | Spotify | iHeartRadio | TuneIn | RSS