7 Mistakes You're Making When Seeking Love Online and How To Do It Right
Online dating without the stress, anxiety or frustration…
Quickly and easily magnetize the man of your dreams online by learning how to create a profile he can't resist and applying specific techniques to separate the high-quality man who shares your values from duds, perverts and scammers.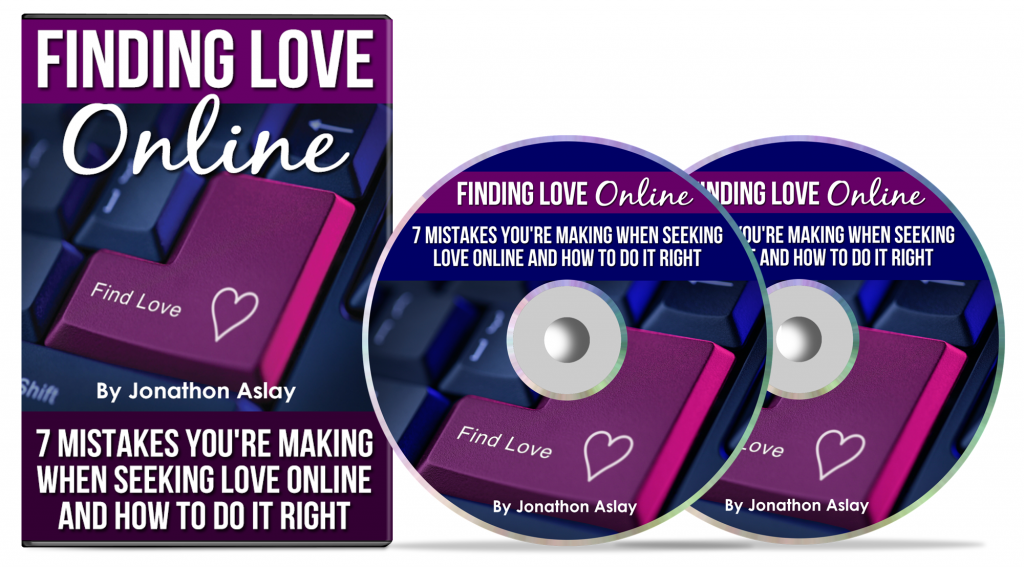 When it comes to meeting Mr. Right, the Internet is the place to be. According to recent studies, close to a third of couples who married within the last decade met online. They're also slightly less likely to divorce than couples who first met face-to-face. Chances are, you probably know someone who's met the love of their lives online. Online dating has a lot of advantages. You can screen for exactly the kind of man you're interested in, even before your first contact. You can be as choosy as you like. And you can meet quality men who share your values and interests you wouldn't otherwise ever run into by chance…and be out getting to know him as soon as today! Looking for love online has been hugely rewarding for a lot of single women, but for most, online dating is anything BUT satisfying. In fact, if you're like a lot of the women I coach, online dating is frustrating and even downright demoralizing. I hear this all the time—there can be a huge disconnect between what online dating promises and what it actually delivers. For example, have you ever…
Wasted hours messaging or emailing men who never responded back?
Emailed someone who turned out to be a liar, scammer or pervert?
Been stood up or rejected after meeting in person?
Invested a lot of time and energy into a profile only to have poor quality responses or NO responses at all?
Gotten excited about a man only to be disappointed because he's much older, less attractive or nothing at all like what he represented online?
Felt anxious and uncomfortable because all the interesting men want to rush too quickly into meeting in person, or getting physical.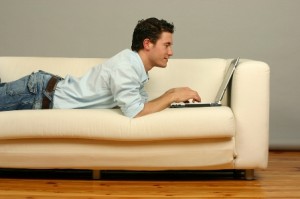 Maybe you've concluded online dating is not for you. You WANT to meet a quality guy, and you WANT to experience the same kind of success other women have enjoyed, but you just don't understand why it's not everything you'd hoped. I don't want you to feel discouraged. Meeting a man online is by far one of the BEST ways for a single woman to screen for the right guy and start an amazing relationship—much better than hoping for a chance encounter at Starbucks! Let me show you the secrets to successful online dating, so you can be one of the lucky people who meet, fall in love with, and even marry the man of their dreams…
In my audio course, Finding LOVE Online, 7 Mistakes You're Making Seeking Love Online and How to Do It Right, you'll learn:
How to overcome the fear and anxiety that's either keeping you from trying online dating or putting 100% effort into meeting the right man
The important do's and don'ts of online dating that keep you safe and increase your chances for finding love online dramatically
How to use specific words and phrases in your profile that magically attract a man…and certain words that will instantly disqualify you in a man's mind
How to create a profile that will stand out among the thousands of profiles vying for that quality guy's attention, so Mr. Right doesn't pass you by
How you may accidentally be turning men OFF with your profile, and how to fix that immediately
How to know whether a man is a scammer, player, liar, or even married from what he writes in his profile or first email contact…it's obvious when you know what to look for
The tell-tale signs that a man is emotionally unavailable from the way he corresponds with you and how he behaves from DAY ONE
How to flirt online in a way that will intrigue a man to want to get to know you
How to take a profile picture that will have the MOST impact, so he sees the best of YOU instead of any physical flaws you may have
Which dating sites are best for your specific needs, and which you should avoid like the plague
How to put specific safeguards in place and screen for potentially dangerous or inappropriate people, so you're not taken advantage of or wasting your time
What to do and say on a first date to keep him interested and get him asking you for that that second, third and fourth date (and beyond)
And much more…
It's likely the love of your life is already out there, maybe even within miles of you right now, looking online and hoping he'll meet a woman like you.
If you want that one special man to find you, and if you want to learn the secret strategies that will magnetize him to you and keep him wanting more, than I invite you to join me for this audio course.
Special Bonus #1 ($97.00 Value):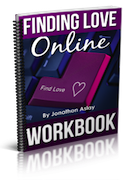 Finding Love Online Workbook – A 26-page workbook designed to help you create a better online dating profile, clarify what's really important to you in a relationship, and gain the confidence you need to actually get out there and get noticed.
Work through this guide carefully, and be sure to thoughtfully answer all the questions, and your online dating experience will be much more fulfilling.
Special Bonus #2 ($47.00 Value):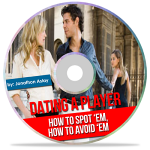 Players – How to Spot 'Em  – Players are a lot like fevers – it's all a matter of degrees whether he's dangerous or manageable. If you're meeting men who are serial daters or players, you need the tools to spot them first. Then you'll know whether to stay or run.
Special Bonus #3 ($47.00 Value):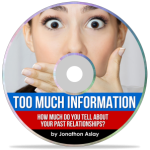 Too Much Information: How Much Do You Tell About Your Past Relationships – Revealing too much, too soon can turn a promising relationship sour. But waiting too long can make it look like you're hiding something.
How do you know what to tell and when? Jonathon has the answers in this audio recording.
Special Bonus #4 ($47.00 Value):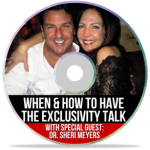 When and How to Have the Exclusivity Talk – Jonathon and special guest Dr. Sheri Meyers, author of "Chatting or Cheating," discuss the right way to bring up this sensitive subject.
If you've ever struggled to bring up the subject of dating exclusively, you won't want to miss this audio.
Special Bonus #5 ($97.00 Value):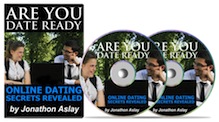 Online Dating Secrets Revealed – So, you think you're ready to date; perhaps even ready to be in a serious relationship? Dating requires a positive approach and lots of energy. You'll need to get on out there, make some mistakes, brush yourself off, and continue the process of learning about yourself and what you want and need in a partner.
Why? Because it's not easy to find your Mr. or Ms. Right – yet the ability to do so is all within your grasp.
Special Bonus #6 ($97.00 Value):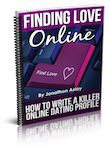 How to Write a Killer Online Profile – Stop attracting creeps and players and create a profile that shows your true self, so you can find YOUR perfect man. It's not that hard, if you know the 3 steps to take to create your killer profile.
Order this audio course if you:
Struggle to create an online dating profile that attracts the right men
Get so nervous on a first date that you're worried you'll drive him away with your awkwardness
Worry that the guy who contacted you is just another scammer, player, liar – or worse
Wonder which dating sites are right for you – and which ones are just a waste of time
Who will benefit from this program?
1. If you've had zero luck with online dating because the men you meet are either perverts, duds or scammers.
2. If you've heard stories of couples who've met online, fallen in love and married and you want to know how you can have the same success.
3. If you get low-quality or no responses from your online profile.
4. If you go on a lot of coffee dates but no one seems like a good fit because they're nothing like their profile portrayed. Or they say the same about you.
5. If you're ready to give up or have already given up on online dating, but are not having any luck meeting men any other way.
Then Finding Love Online is for You!
Finding LOVE Online! Order this 2-part audio course and I will show you how to spot the signs that the man you're dating is about to back off, leaving you heartbroken and confused.
2-Part Audio Course – Listen to the recording again and again as you make your way through the world of dating.
Finding Love Online Workbook – To help you create a better online dating profile.
Bonus Recording: Players – How to Spot 'Em – Learn the telltale signs of playboys who will only break your heart.
Bonus Recording: Too Much Information – How Much Do You Tell About Past Relationships? – Don't scare him away by offering too much, too soon.
Bonus Recording: When and How to Have the Exclusivity Talk – With special guest, Dr. Sheri Meyers
Bonus Recording & eBook: Online Dating Secrets Revealed – How to get the most out of online dating.
Bonus Guide: How to Write a Killer Online Dating Profile
The retail cost of this audio course is $297,
but for a limited time
you can get instant access for just
$297 $127
LIMITED TIME OFFER: Order Today and Receive a
FREE One-On-One Phone Coaching Session to Review Your Profile!
Enjoy "Finding Love Online" Risk-Free!
If you're not convinced that the information in this package is an accurate look inside the male mind and if it hasn't brought you greater peace of mind and success in dating, let me know within 30 days of purchasing it and…
I'll quickly and courteously refund your entire purchase price.
30-day-guaranteeThere's no catch. I believe in this material and have seen the positive effects of understanding men. So if you don't find the concepts behind "Finding Love Online" to be truly beneficial, simply reply to the email confirmation you'll receive when downloading the course, write Refund package in your message, and I will refund you for the full amount. No questions asked! "Finding Love Online" is no-risk. If you don't see the value in it, I don't want you to pay for it. But I'm not too worried about that. I'm confident that this limited-time offer is going to be one of the best long-term investments you've ever made in yourself.
PLEASE NOTE: NO refunds will be granted after personal coaching calls, given as a bonus with this course, have been conducted.
Finding Love Online and all other Understand Men Now products are delivered as digital downloads.
No printed material or CD/DVD recordings will be mailed to you.
Jonathon Aslay has done the women of the world a great service….he has cracked the code to "understanding men." If you're ready to have a relationship that really works, dive into his vast wealth of wisdom on men, women and relationships.

Arielle Ford

Author of Wabi Sabi Love: Finding Perfect Love In Imperfect Relationships
Hello, We are Cathy & Kyle, & would like to share our success story with you…

kyle-and-cathyI (Cathy) went through a divorce, after being married for 24 years, became an empty nester when my 2 sons went off to college together, & I was all alone. It was an overwhelming change for me to deal with. Some of my friends suggested that I should go on Match.com. a online dating service where you can meet men. Being out of the dating world for a very long time, that was a little scary for me. But after a week or so, I decided to check it out & I signed up. Having no clue what I was doing, I made some "not so good choices" when I started dating these men that I met on the site. Until…

I met Jonathon Aslay, a relationship confidant & coach that helps women over 40-find love & to Understand Men from a male perspective. He also teaches you about online dating, what to do & what not to do…. after talking with Jonathon, I knew I was doing a lot of things wrong. Jonathon is a Real Person, he becomes a friend & someone that is concerned about you, & wants to help you! It wasn't all roses…believe me, he told me straight out…"you are blowing it girl, if you think you will ever find love the way you are going, it won't happen"…. So I listened, read books he suggested, joined in his tele-calls, had some coaching calls & learned from his knowledge. At that point I decided to join his "Angel Membership" group. The Best investment I ever made!! The women in the group were so welcoming, non-judgmental, & like true friends from all around the country…

I am still involved & a member of Jonathon's "Angel Group". I love our private Facebook page, (that only members can see & communicate with each other, on). I love sharing my stories with everyone & reading theirs as well. Getting & giving advise when you can also. I am still learning about Understanding Men & relationships from Jonathon. Because in everyday life, there are always trials to deal with, always room for improvement & growth.

And now here I am, in a wonderful, committed relationship with an amazing man that I love very much, and that loves me in return. We have been together for 3 year now. We enjoy our time together, learning about one another, growing in a positive direction towards a lifetime of happiness.

LOVE and RELATIONSHIPS are a beautiful thing…. especially when you have the proper tools & training in finding love, keeping that love & building that love into a wonderful, committed relationship that lasts a lifetime. That is why I strongly suggest that you visit his website…UnderstandMenNow.com and consider becoming a member.

If it wasn't for Jonathon we wouldn't be in this beautiful, loving, committed relationship that we have!! Thank you Jonathon for all you do….

Cathy & Kyle
True story: if it weren't for Jonathon, I would not be engaged to the exactly right guy for me – the man I've been seeking my whole life.

First there was my issue with dating. I can't stand dating.

Not just online dating but dating period. Ugh. I had lots of good "reasons" – busy with my kids, busy with my business and it's just such a time consuming road to no where – or at least that is how I felt.

Jonathon supported me to get outside of my comfort zone and to stay in the process even if it wasn't always fun.

Then, when I did meet Mr. Right he was nothing like the version I had in my head. NOTHING! "This cannot be it."

I would say to Jonathon who would listen patiently then help me see all the ways it was in fact "it." My heart knew but my head kept trying to run.

Without Jonathon's coaching, I'd still be in dating-hell or resigned to being single rather than planning my wedding to an amazing guy, who IS everything I wanted – and then some."

Mary M.
I'm married and in LOVE. Shortly after working with Jonathon, I met an amazing man online and now I am married. Before working with Jonathon, I was making so many mistakes which included dating players and guys who weren't relationship or emotionally ready.

That all changed with Jonathon's help. Jonathon is really the guy spy into the male mind which helped me understand men so much better. Working with him during our private sessions, he held my hand and guided me through the dating process (how to date smart).

Plus I joined his private group (everyone is called Angels) and there I could discuss my anxious feelings about men in a very safe place.

The confidence I gained working with Jonathon allowed me to be less needy and in my feminine power which my husband loves.

Thank you, Jonathon, you are really the BEST!

Sharon & Hank
Private & group coaching, workshops, teleclasses and digitally downloadable products are designed to be intellectually and conversationally stimulating and for enlightenment and entertainment purposes only. It is not intended to be used for mental or medical diagnosis or treatment. Mr. Aslay makes no guarantees or representation that he will resolve your relationship query. All audio recordings & transcriptions produced during any live workshop, teleclass or Spotlight Coaching session is the property of Jonathon Aslay, Understand Men Now (UMN) and JSA Communication, LLC (JSALLC). Participation waives all rights in the recordings and the audios may result in future resale and Jonathon Aslay, UMN & JSALLC retains full rights in it's use. Our refund policy and other terms and conditions can be found here